02 January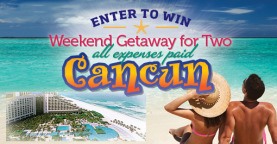 Win a Cancun Getaway for TWO!
How would you like to start the New Year off by relaxing on the White Sandy beaches of Cancun? Maybe get that nice tan started a little earlier this year while relaxing after all the hustle and bustle of the holiday season. Well that's exactly why AdPages is giving you and a +1 the chance to win an all inclusive get away at the Iberostar Resort when you simply enter to win at AdPages.com/contest. Christmas may be over but that doesn't mean you can't sneak in one more present for you and a friend.
Iberostar Cancun is a luxurious 5-star resort on one of the finest beaches in Cancun. Along with relaxing on the white sand beaches, enjoy the resorts incredible food. With two hotel buffets and four á la carte restaurants specializing in different world cuisines you won't be disappointed. Looking to be entertained in the evening? Iberostar has live shows, dancing, comedy and endless music at the Iberostar Cancún Telón Theater.
If getting active is more of your forte then choose from a huber of activities such as tennis, basketball, beach volleyball, yoga, or even Ibersostar's 18-hole golf course. If being pampered sounds like something more to your liking then a massage from SPA Sensations, where the best revitalizing treatments are offered, is for you!
As you can see there is something for everyone at the Iberostar resort in Cancun. All you need to do is enter here to win the all-inclusive trip for you and one other person at AdPages.com/contest and you could be the one's enjoying the trip in no time.
Enter to Win Here and you can have your toes in the water with a Pina Colada in your hand before you know it!