23 February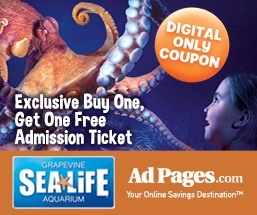 Sea Life Grapevine Exclusive Coupon
Things to do in Dallas- Sea Life Grapevine Coupon
This March Ad Pages and Sea Life Grapevine have teamed up to offer you one of the best and most exclusive Buy One, Get One Dallas Coupons to Sea Life Grapevine. Are you wondering what things to do in Dallas for Spring Break? Always wanted to try out Sea Life Grapevine but wanted to use a digital coupon for it to save money? We have you covered!
Starting March 1st Ad Pages and Sea Life Grapevine will be offering an exclusive Buy One, Get One Free Digital Dallas Coupon. This means you can enjoy one Free Admission Ticket with the purchase of a second full-price ticket through this digital only coupon! This is valid for up to (4) Buy One, Get One Free offers!
Plan Your Visit to SEA LIFE Grapevine Aquarium today and make this Spring Break a memorable one!
Also, be sure to check out the newest addition to Sea Life, The Giant Pacific Octopus! This is the largest octopus in the world with arms up to 7 feet long! Make your Octopus experience at Sea life a learning one as you find out things you never knew about the Giant Pacific Octopus!