13 November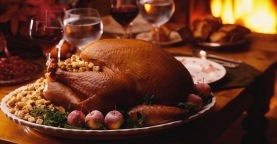 Thanksgiving Savings Tips
We want to make your Thanksgiving Feast a memorable one this you. Here are a few money savings tips some of our staff at Ad Pages came up with to help make sure you don't get bogged down with Thanksgiving Costs! Happy Eating!
Create a BYOD Party
Make Thanksgiving Meal a Potluck Dinner. Instead of one person slaving in the kitchen all day, and lets be honest all night, have everyone bring their own special side dish.
Asking your friends and family to help you out with the dinner is a great way to save money on Thanksgiving. Just request types of dishes not specific recipes. For example ask people to bring a dessert, app, or side dish.
Volunteer
Why not mix things up this year and volunteer at your local Soup Kitchen. Meals on Wheels and other Shelters in your area are always in need of volunteers and would love to have your help!
Buy Supermarket Turkey
Try to purchase a Frozen Supermarket Turkey. Frozen Turkeys are almost always cheaper, and can taste just as good if prepared the correct way!
Make as many DIY Sides as possible
Try to make the most of the Turkey this year and all of your other main dishes. For instance incorporate the Turkey into as many dishes as possible. Turkey drippings can be great for gravy!
Leftovers
Instead of throwing all of the food out why not just put them all into containers and then feed your family for  A WEEK! There is always the temptation of eating all the leftovers at midnight, but try and fight that urge. You can make a homemade Turkey Soup, Cheddar Turkey Casserole and a Next Day Turkey Primavera. See here for the best after Turkey Day Leftover Meals.
Get your Entire Thanksgiving Meal for FREE
How great would it be to get your Entire Thanksgiving Meal for FREE? Be sure to enter here for our contest and be eligible to win 1 of 3 Gift Cards to Trader Joes! Think of all the 2 buck chuck you could purchase for the festivities. Happy Thanksgiving!