11 November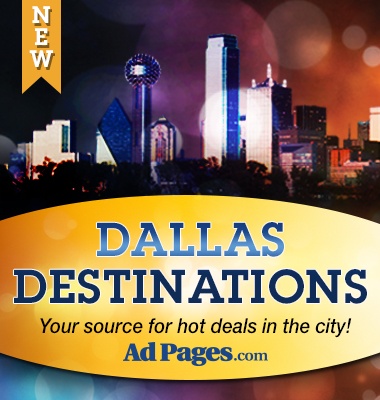 Dallas Destination Deals
Ad Pages Introduces Dallas Destination Deals
You deserve to be rewarded for the amazing job you do! Whether you are running around chasing the kids all day or on the corporate side of things you deserve to let loose every once in awhile!
Adpages has recently partnered up with some great venues to provide our newest promotion, Dallas Destination Deals. These are amazing deals in the Dallas area for when you are looking to have a night out on the town. Hire the babysitter and check out our Dallas Destination Deals! From Comedy Clubs that will have you falling out of your seats to restaurants that will have you licking your plate clean, you don't want to miss these great deals before they sell out!
Here are some of the many Dallas Destination Deals we will have:
These deals will start to become available the week of November 3rd. We will have multiple destination deals a week so be sure to check back every week to make you aren't missing out on a great date night idea!