11 November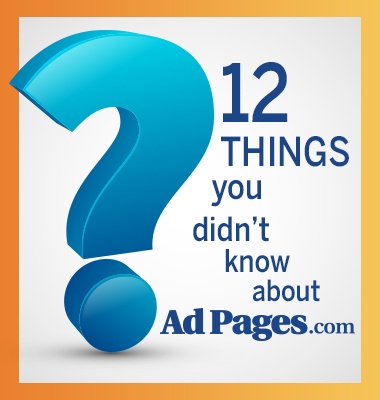 Ad Pages Savings and Coupons Blog
We would like to introduce our blog by compiling 12 Things you probably didn't know about AdPages.com!
Where It All Began. Ad Pages was founded in Dallas, Texas by our current president Bill Squiric, with zero employees, zero capital, and zero customers! However, Ad Pages did have a great idea and vision, and is still going strong. What A Great Entrepreneurial success story!
What we do for our customers. Help them Save! Our mission is to give our readers special discounts and coupons that they can use every day while supporting local businesses. Ad Pages mails over 20 million magazines throughout our 80+ individual DFW, Austin, San Antonio and St. Louis communities and suburban markets every year.
We are your online savings destination. Not only are we your destination for savings via our magazine, we are also your ONLINE savings destination. We offer daily deals, free coupons as well as for purchase printable and mobile coupons to all of our markets!
We have an APP. We want to make it as easy as possible for you to save! Along with our Magazine/ Direct Mail Inserts, Free Local Coupons, For Purchase Local Coupons, and Daily Deals we also have an App! We are making all of our online coupons mobile friendly. We want you to be able to pull them up on your phone at a moments notice to get that extra savings!
We have constant contests and giveaways. We love to give our subscribers chances to win some extra cash! We are constantly running cash giveaways/contests. Check out all of those opportunities on our website and facebook page!
We are launching our NEW and IMPROVED website. Starting mid- November our new and improved website will launch. Not only will you have access to Deals for Purchase but you will also have access to every free deal that we have in our magazines! These local coupons will all be mobile and printer friendly!
We support local businesses. We want to help your small business expand! Our Account Managers will help figure out the perfect marketing plan for your small business! Whether its advertising in our Magazine, Online Coupons, in our APP, or doing a Daily Deal, our managers have worked with every type of business out there!
We have the Texas Triangle on lockdown. We are currently in DFW, Austin, San Antonio and St. Louis. We are always looking for ways to expand our business and to provide local businesses with an opportunity to partner up with Ad Pages.
We believe in a positive work environment. We know that the reason Ad Pages has been so successful is because of the amazing people that work here. For that reason we place a huge emphasis on making sure everyone is treated fairly and with respect.
We have great affiliate programs. We currently team up with other savings websites and bloggers to get the word out there on our amazing local deals. We want everyone to know about the savings you can come by with Ad Pages. We have great packages for all of our affiliates and love working with them!
We believe in great customer service. We are not one of those companies that deals with our customers with an automated machine. If you were to ever have an issue with one of our advertisers or deals we are very accessible and consumer friendly.
Ad Pages Cares. Not only do we support local businesses, but we also support Non-Profits in the Dallas Area.
Hope this gives you a little insight in to the history of Ad Pages and what all we offer for you and your family. We want to be your Online Savings Destination!