14 January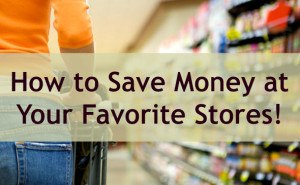 How to Save Money at Your Favorite Stores!
According to a recent Gallup poll, the average American family of four spends about $600 per month on groceries. Guess how much I spend to feed my family (which includes three always-hungry boys!)? My average monthly expense is around $250. Yep, that's it. Plus, many of our health, beauty and household items I get at rock bottom prices and sometimes totally FREE! So how do I do it? Keep reading to see how you can take advantage of savings offers available at your favorite stores.

To me, Target is like heaven on earth! Where else can you pick up eggs and a pack of diapers, while sipping on a latte and browsing through the latest chic fashions at affordable prices??? Plus, when you stack their printable Target store coupons, with Cartwheel offers, and manufactures coupons, you'll find yourself saving a TON of money…then you can use that savings to go back an buy a second latte!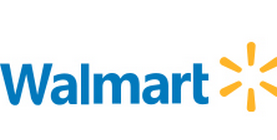 Believe it or not, I rarely shop at Walmart. Their long-running "Always Low Prices" slogan (which was shelved many years ago) just doesn't hold true in my book. I save significantly more when I shop the weekly competitor ads and match up store and manufactures coupons. BUT I do love that price matching at Walmart is incredibly easy and their new Savings Catcher program does all the work for you.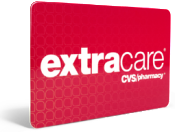 Learning to shop at CVS can be a little confusing. But once you get the hang of it, you'll find yourself getting most of your health and beauty items for incredibly low prices (and a lot of times for FREE!). An important thing to remember is that the regular prices for most items at CVS are usually more expensive than Target or Walmart, so try to only purchase items that are on sale or a part of an ExtraBuck promotion. Go here to read my "CVS 101″ post and learn how to shop like a champion at CVS.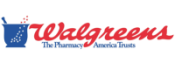 I'm not a huge Walgreens shopper, because I prefer the ExtraBucks program at CVS. However, they also offer many ways to save money through store coupons in their weekly ad, the Instant Value Coupons found in the Walgreens Easy Saver booklet at the front of the store, and their Register Rewards program. Take a few minutes to read my "Walgreens 101″ post, and you might find yourself eager to start saving!

Tom Thumb is the only remaining grocery store in D/FW that will still triple coupons up to 35¢ and double coupons up to 50¢. Keep in mind, only one "like" coupon per transaction will be doubled or tripled. If you plan to use multiple coupons, you'll need to do separate transactions to take advantage of the double/triple bonus offer. They also allow for "stacking," which means you can use one manufacturer's coupon AND one in-ad or Just for U Tom thumb store coupon per item. You can also add "Personalized Deals" directly to your Rewards Cards and get automatic savings when you checkout. Just log in or create a Just for U account. It's FREE! I checked my account and found an offer for "$3 Off Your Purchase of $20 or More." Sweet!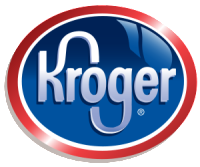 Kroger is my go-to grocery store. They tend to have the best everyday low prices, plus their Mega Event sales always get my heart racing! And if you think clipping paper coupons is a drag, instead load digital coupons directly to your Kroger Plus card. They even offer a "Free Friday Download" where you can score a FREE item each week!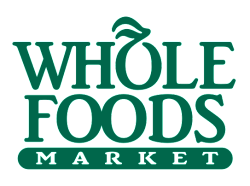 I'm not a regular Whole Foods shopper. It's a little too pricey for this frugal gal, but there are some great ways to get awesome deals when you stack Whole Foods store coupons, manufactures coupons, and offers from rebate apps like, Ibotta and BerryCart. On a recent shopping trip, after all my coupons and app rebates, I got $36 worth of food for FREE!!!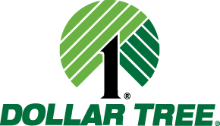 Dollar Tree recently began accepting manufacture coupons which means you can find some stellar deals. Their coupon policy limits printable coupons to two per person, per day, and up to four "like" coupons. Also, keep in mind, inventory varies from store to store, so if you see me post a HOT deal found at a local store, it may not be available at your store.