19 December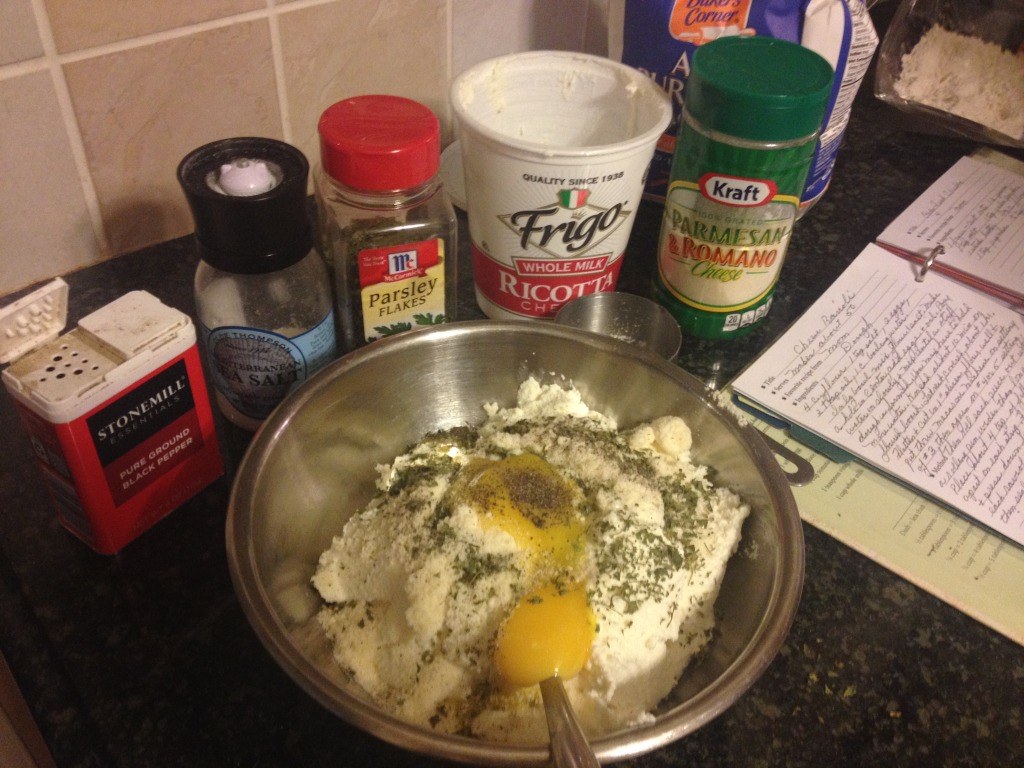 Homemade Cheese Ravioli Cooking with Ad Pages
Every year a week before Christmas all of the women in my family get together at my Grandma's house to make homemade cheese ravioli. My Italian Grandma started this tradition a few years back and I feel like I have benefitted tremendously because I now know how to watch someone make Cheese Ravioli from scratch…notice I said "watch." After years and years of watching I still do not know how to do it completely on my own. This year I sat and paid close attention so I could  give you a detailed step by step account along with ingredients on how to make homemade Ravioli in hopes that you will be able to feel the joy of eating something on Christmas Eve that you made from scratch! It is a fairly easy recipe with minimal ingredients so no going from store to store trying to find that one ingredient.
Ingredients Make about 50 Ravioli
 Dough:
4 Cups Flour
1 tsp Salt
2 Eggs
2 tsp Oil
1 Cup Boiling Water
 Filling:
2 lbs Ricotta Cheese
1/2 Cup of Romano Cheese
2 Egg Yolks (NOT Whites..Learned the hard way)
Chopped Parsley  (to taste)
Salt & Pepper (to taste)
* to taste = if you like a lot of salt add a lot of salt
Misc Ingredients:
Pasta Machine (you can get one here)
A Couple Large Bowls
Rolling Pins
Forks
Pastry Wheel
Step 1: Making the Dough
In a large bowl mix flour and the salt. Make a hole in the center and add the eggs and oil. Pour boiling water in slowly and mix until a stiff dough is formed. You may have to add more water. Knead about 10 min on floured board. Let rest covered for about 1 hr. This will give the dough time to rise.
Step 2: Making the Filing
Add all of the Filling Ingredients to a bowl and mix them together. Make sure to taste this and add salt and pepper if needed.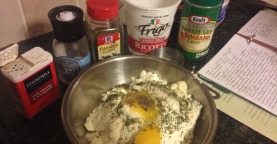 Step 3: Making the Raviolis
Take the dough (after it has set for 1 hour) and flatten it into a square. Cut it into 1″ slices flour it well and put through the Pasta Machine on setting of #3 then again on #4/#5. The setting will depend on how thick you want the raviolis. Don't get them too thin or the raviolis will fall apart.
After you have put them through the Pasta Machine roll each piece out with a rolling pin wider than they are longer. Place about 4 tsps. of fillings a little bit apart from each other on the dough. Fold Dough over and press down firmly. Cut each ravioli with a pastry wheel then seal the edges with a fork dipped in flour. (see pictures)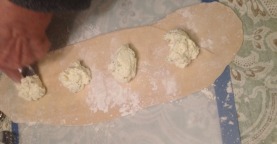 After that take a pan with wax paper and flour it. Place the raviolis on the pan and place them in the freezer until frozen an hour at most. Then take them out and put them in a freezer bag (3 bags). Then put them back in the freezer. Whenever you are ready to try your delicious home made raviolis simply put them in a boiling water until they are done and serve with your favorite kind of red sauce! This makes a perfect Christmas Eve Dish!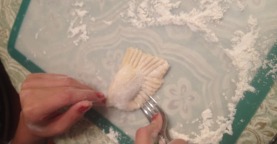 Hope you enjoyed our Homemade Ravioli Cooking Tutorial! Check back after Christmas Eve and see the end results!