05 March
AdPagesCruise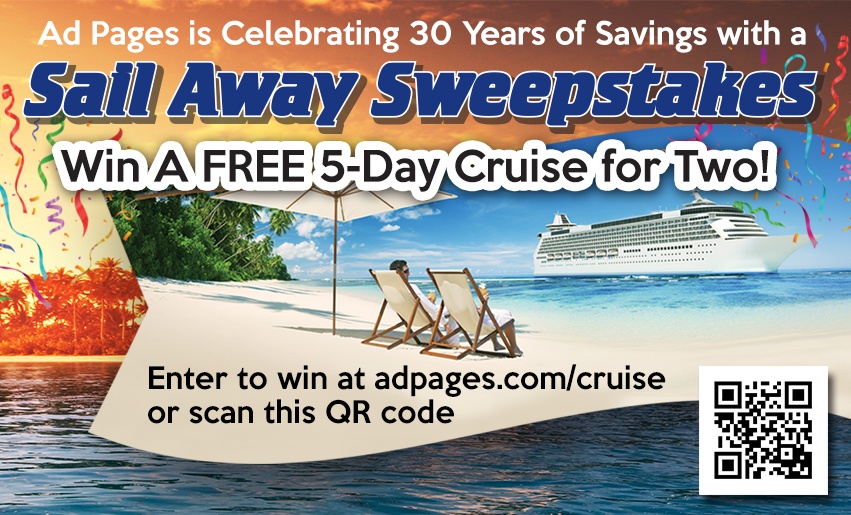 It is time to celebrate! This year, Ad Pages is celebrating 30 thriving years of being in the business of helping our neighbors save time & money. We do this by offering exclusive savings & deals at local businesses. Our readers can access these savings both Online & through our Print Magazine.
In honor of this momentous occasion, we excited to announce that we are offering a once-in-a-lifetime deal with our Sail Away Sweepstakes. Essentially, we are saying "Thank You" to our readers by giving away a FREE cruise for 2! We figured that Ad Pages has been saving you money locally for so long, that it was time to offer a chance to experience savings on a more exotic scale.
PICTURE THIS:
If you have not ever been on a cruise – now is your chance! Picture yourself & a dear friend on a cruise. There is truly so much to do, not just on the boat, but at the different ports you will stop at as well. We will have another post in a few days to really go into detail, but to just give you a few ideas, there will be endless food, drinking by the pool, lounging in the sun, singing at midnight…. Suffice it to say, we guarantee it will be the most fun you have had in a long time.
We look forward to announcing the winner on April 17th. Be sure & enter HERE before the deadline so you can join the fun in the sun!