16 February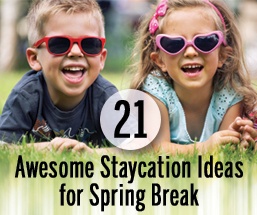 21 Awesome Staycation Ideas for Spring Break
If your budget doesn't allow for a Spring Break vacation this year, don't fret. There are a ton of fun ways to make your Spring Break Staycation one to remember without breaking the bank. And if you plan well, your staycation could end up being one of the best breaks you've had with your family!
First you need to make a plan. Here are some tips on how to get started:
What do THEY want to do? Ask the kids to brainstorm a list of ideas that they want to do for Spring Break. Here are some questions to get you started:
"What have you always wanted to do or see, but we haven't had a chance to yet?"
"What would make you say, "This has been the best day ever!"
What do YOU want to do? Parents should get a chance to chime in as well! There are so many resources to find ideas…from local magazines (Ad Pages) to free fun websites, including MyDFWMommy.com. Just check out our around town section for family fun things to do in Dallas,Tx!
Make a Plan. Sit down as a family and plan out your week. Listen to your kids ideas and combine them with yours. Use coupons, entertainment deals and free activities to stretch your dollar. Take advantage of restaurants that offer free meals for kids. Using these savings tactics might allow you to splurge and get a hotel for one or two nights during the week to make you feel as if you really have "gotten away".
Try Something New! Use the "out-of-the-box" thinking to come up with something new and fun for the family. Hiking in a cave, going on a scavenger hunt, zip-lining, visiting thrift shops. The family fun ideas are limitless!
Been there Done that? No matter how many times we have been there, my daughter always wants to go to the zoo. This year, we plan on creating a photo scavenger hunt to go along with it to make it fun again. You can still do the same old stuff your children love with a twist to make it new and fun.
Quality Time. Some of the best times are right down the road at your local park. The key is giving kids what they want and that is QUALITY time with YOU. Turn off your phone, iPad or laptop. Fish with them, ride bikes, fly a kite, play in the stream, have a picnic and TALK to them. It will probably be one of the best days for both you and your child.
Here are 21 Awesome Staycation ideas in the Dallas/Fort Worth area to get you started:
Amon Carter Museum
Cosmic Jump
Dallas Arboretum
Fort Worth's Botanic Gardens
Fossil Rim
Nasher Sculpter Center
Children's Aquarium at Fair Park
Dallas World Aquarium
Heritage Farmstead
Louis Tussaud's Wax Museum/Ripley's Believe it or Not
The Old Red Museum
Perot Museum of Nature and Science
Sci-Tech Discovery Center
Sixth Floor Museum
Dallas Zoo
Klyde Warren Park
Dallas Heritage Village
Dallas Museum of Art
Reunion Tower Observation
Grapevine SEA-Life Aquarium
Grapevine Vintage Railroad